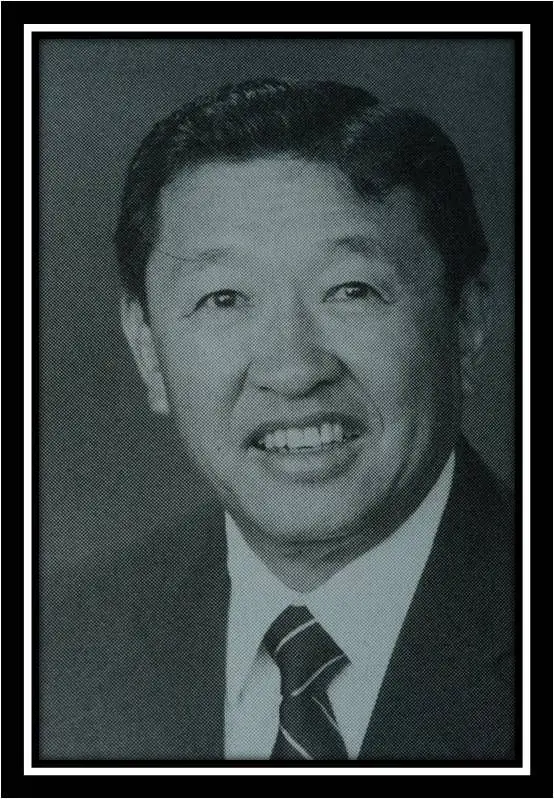 John Masato Fujioka was born on July 30, 1921 in the bedroom of his family's home behind their general store, "Fujioka's", in the plantation town of Waialua, Hawaii. John was the youngest of nine children of Ryutaro and Take Fujioka. Laden with chores around the home and the family business, John learned the virtues of hard work, patience, and time management. John graduated from Waialua High School in 1939 as part of its first graduating class.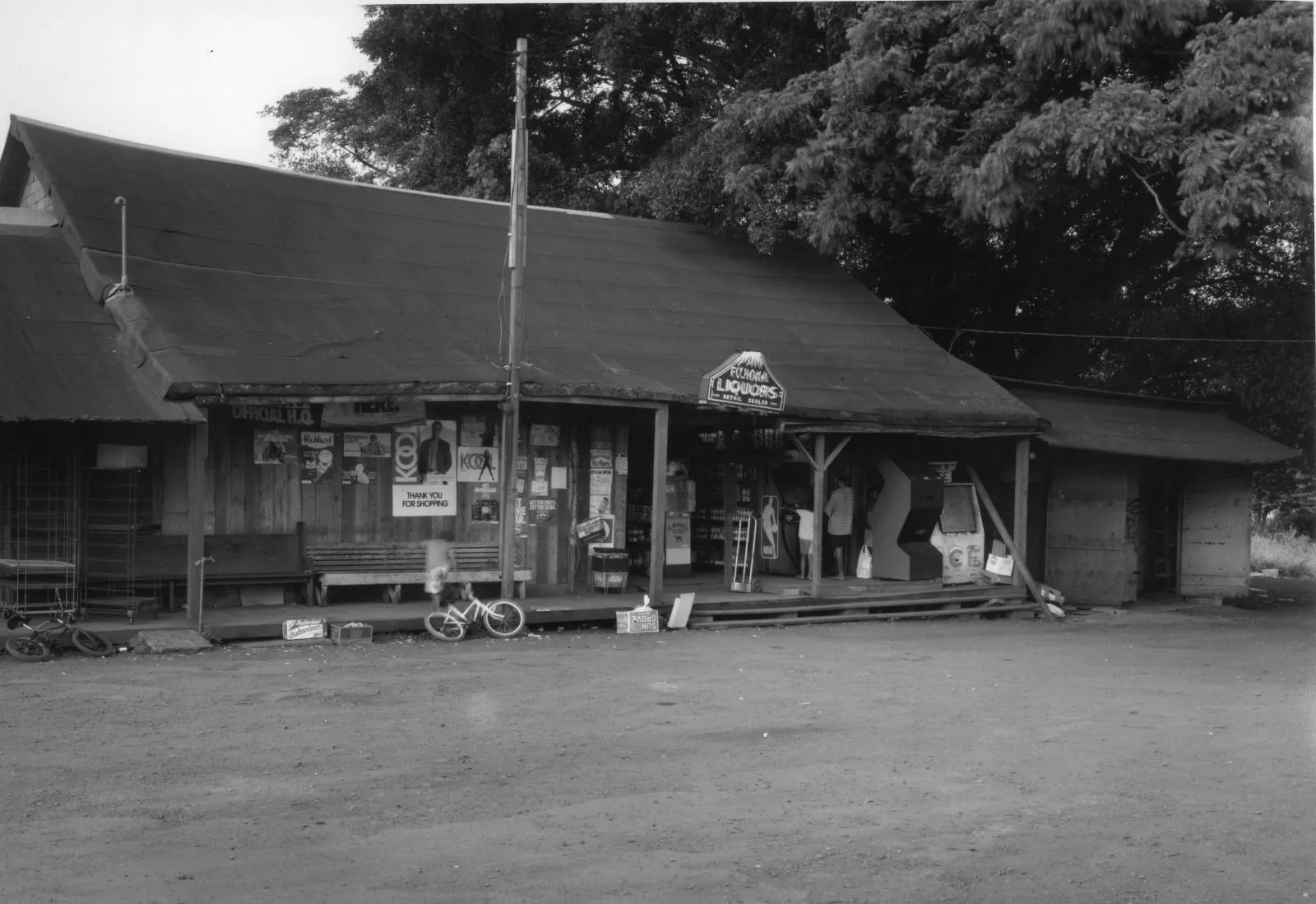 With combined financial support from his family, he attended the University of Southern California, enrolling in their pre-dental program and later entering USC's School of Dentistry. When President Franklin D. Roosevelt issued Executive Order 9066 on February 19, 1942 to intern Americans of Japanese Ancestry, John Fujioka was forced to leave USC after completing his first year of dental school. He was sent to Santa Anita Racetrack in Arcadia, California, which was converted into a Japanese American Internment camp to house up to 17,000 people in their horse stables. He was able to avoid a lengthy sentence when he enrolled at Drake University, where he took courses while applying to dental schools in the Midwest. He was accepted to St. Louis University School of Dentistry where he received his DDS degree in 1946. "Dr. John" remained grateful to St. Louis University for their compassion in accepting him as a student when taking Americans of Japanese Ancestry was not the popular thing to do. While in St. Louis, he also became a lifelong fan of the hometown St. Louis Cardinals baseball team.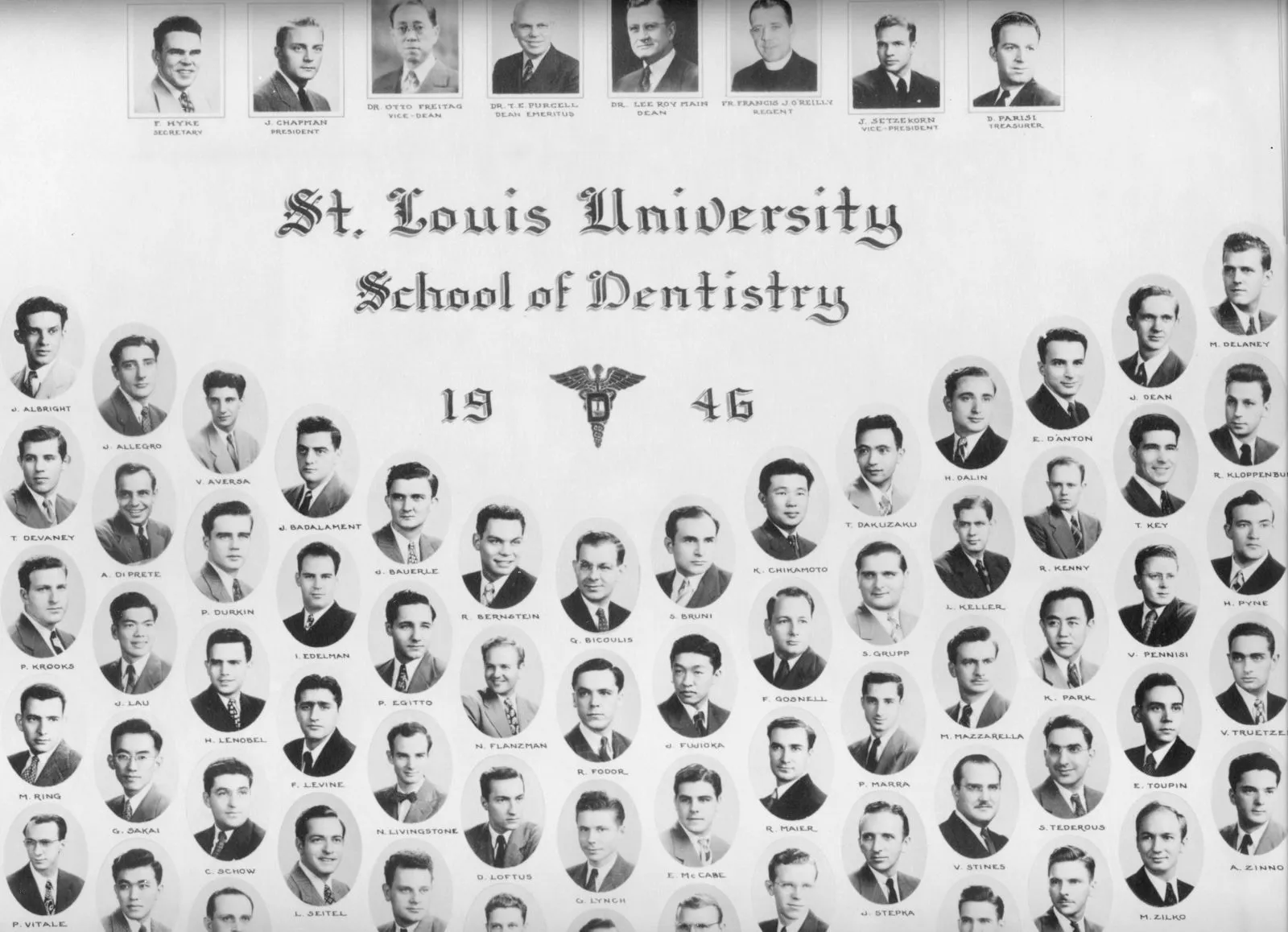 Dr. John returned home to Hawaii in 1946, first finding work as a dentist with the Department of Social Services on the Big Island. After passing his board examination, he opened a practice in Honolulu on Liliha Street while maintaining a small office in the back of the old Fujioka Store in Waialua where he practiced in the evenings and on Sundays. Somehow, he found the time to court and eventually marry Elizabeth "Betty" Kagawa in 1951 and they bought a house in Nuuanu Valley. In 1953 when the only dentist in Waialua passed away, Dr. John bought out his practice located next to the Waialua Post Office and began practicing full-time in Waialua. He sold his Liliha Street practice and moved his family to a beachfront home in Mokuleia in 1954. In 1962, Dr. John moved with Betty and their four children to their renovated home in Nuuanu and opened an office in the brand new Ala Moana Building in the Ala Moana Shopping Center where he practiced for the next 38 years. In consideration of his loyal patients from Waialua, Dr. John kept Saturday office hours as that was usually the only time they could make the drive to Honolulu.
Throughout his career Dr. Fujioka made it a priority to volunteer his time and energy to organized dentistry and his community. He served as president of the Hawaii Dental Association in 1975 and chaired the American Dental Association's Council on Sessions and International Relations in 1989 when Honolulu hosted the ADA Annual Convention. He shared his knowledge of and passion for dentistry with residents at St. Francis Hospital Dental Residency program. He participated in several dental study clubs and served on numerous committees on the state and national levels. He was also active in the Lions Club, Boy Scouts- Troop 41, Nuuanu Elementary School PTA, and the Japan-America Society.
He was awarded fellowships in the American College of Dentists, the International College of Dentists, the Academy of Dentistry International, the Pierre Fauchard Academy, and the Academy of General Dentistry. Dr. John practiced dentistry for over fifty years, always striving to provide excellent comprehensive dental care for his patients.
Sadly, Dr. John passed away unexpectedly on October 10, 2000 in Bar Harbor, Maine during a vacation with his wife and friends to view the East Coast fall foliage. He will be remembered for all the things that he accomplished during his lifetime, his devotion to his profession, his charity, his humility, and his immense love for his family. Above all, he is remembered as a kind and compassionate human being, always willing to help others while never forgetting his Waialua roots.
In 1979, his son, "Dr. Larry" joined him in practice to form the Fujioka Dental Group, Inc.. In 1998, when Dr. Larry was installed as president of the Hawaii Dental Association, Dr. John and Dr. Larry became the first father/son presidents in the 100-year history of the Hawaii Dental Association.
On May 11, 2012, in Los Angeles, California , 70 years after John Fujioka was forced to leave the University of Southern California, his eldest grandson, Jonathan Fujioka, accepted the Honorary Alumni Certificate, on behalf of his late grandfather, from USC president, C.L. Max Nikias. This certificate recognizes Nisei students enrolled in USC who were forced to abandon their studies following the passage of Executive Order 9066, thus denying them the opportunity to complete their degrees at USC.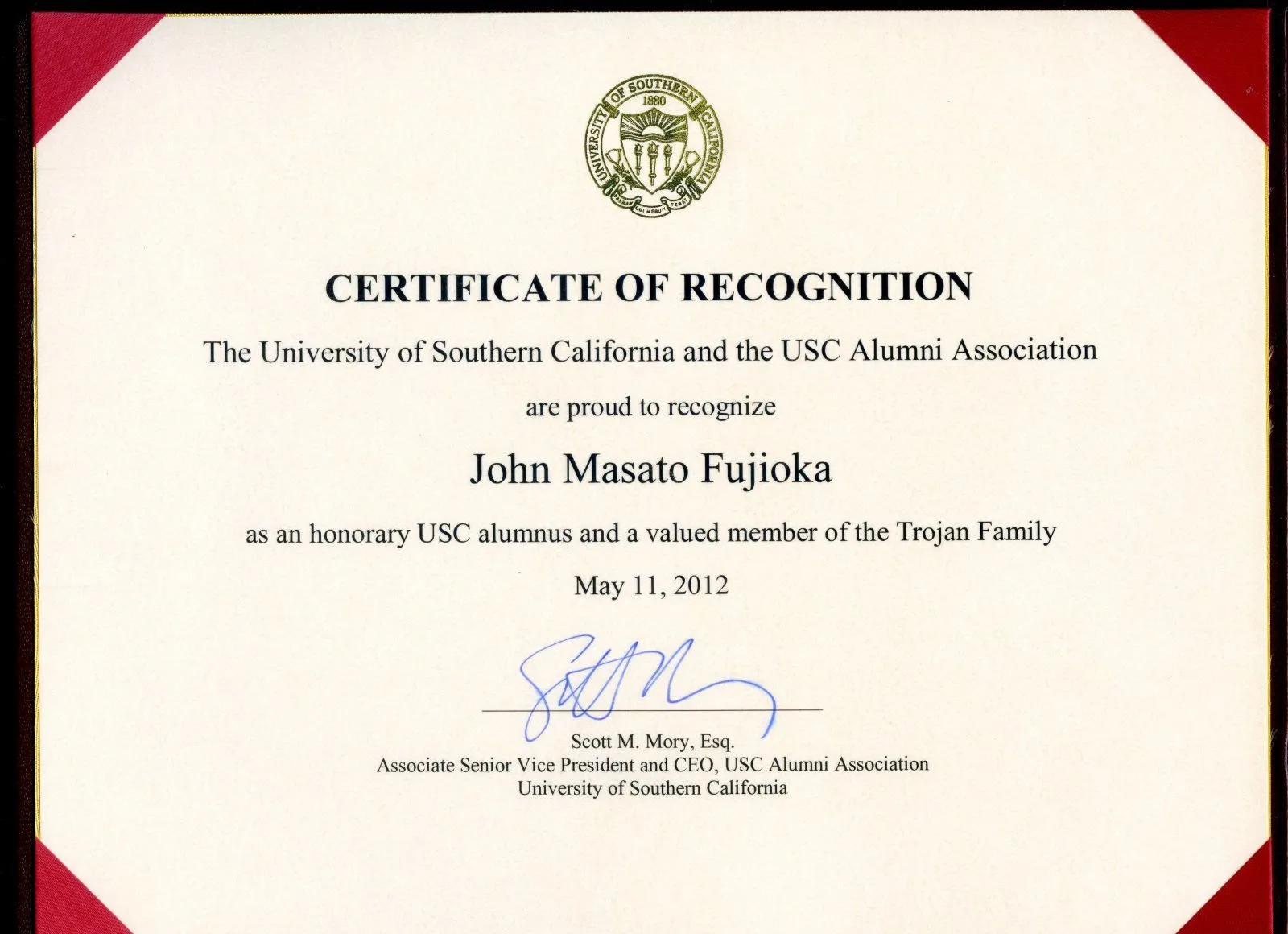 In recognition of their many years of friendship, Dr. Terry Tanaka of Chula Vista, California, established the John M. Fujioka, DDS, Memorial Scholarship, through the Hawaii Terry Tanaka Advanced Prosthodontic and Restorative Study Group. The economic impact on the community following the closure of the Waialua Sugar Mill in 1996 convinced the Fujioka family to award the $1,000 annual scholarship to a senior at Waialua High School who fulfills the following criteria:
"An individual of strong moral character who pursues an interest in helping others through community service, specifically in the healthcare field, but not limited to it"
Listed below are the past and present scholarship recipients:
John M. Fujioka, DDS Memorial Scholarship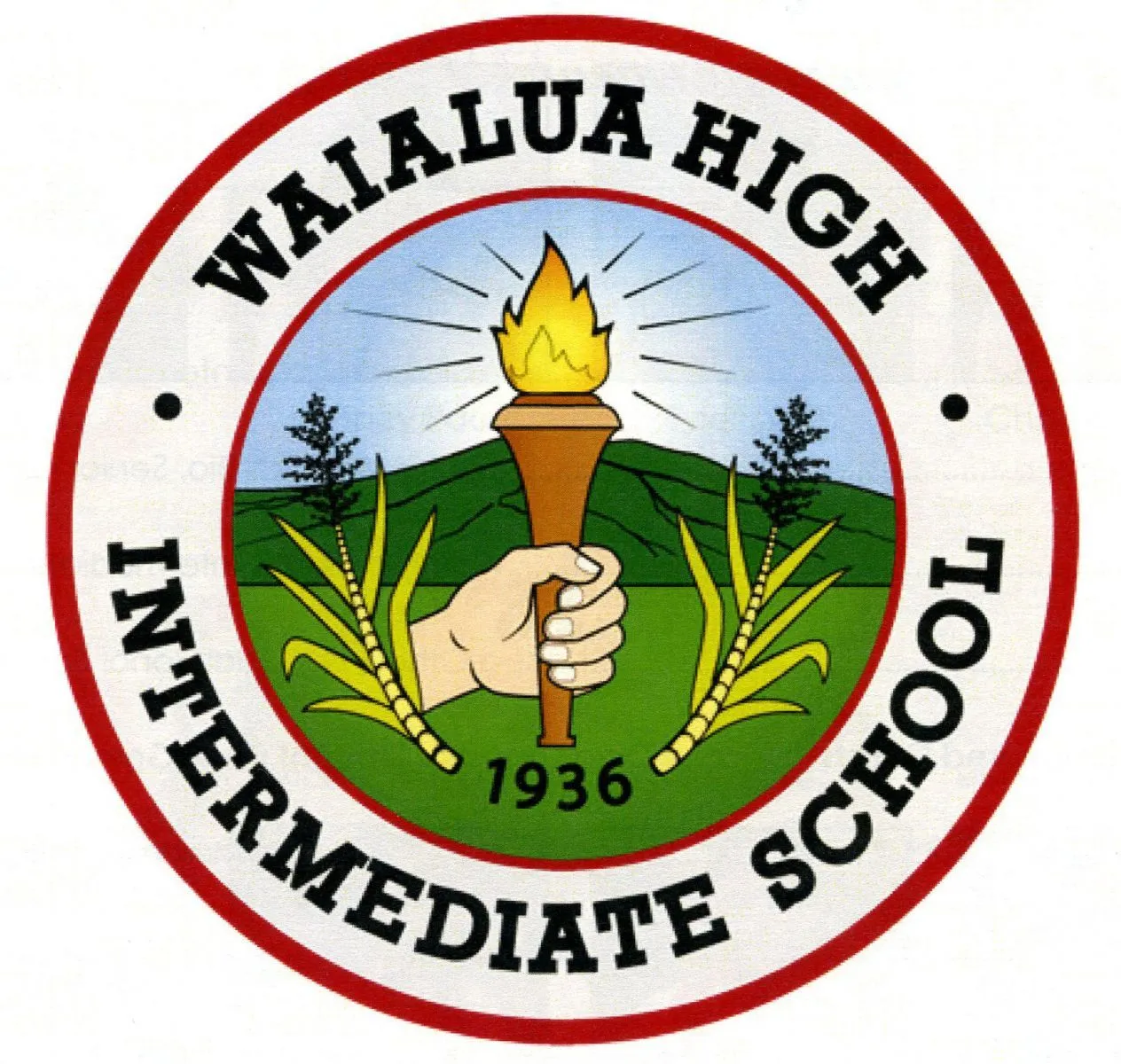 | | |
| --- | --- |
| Year | Scholarship Recipient |
| 2004 | Krystle U. Jumawan |
| 2005 | Crystal Emerita A. Bell |
| 2006 | Roxanne Dacuycuy |
| 2007 | Rabelle Garcia Bruno |
| 2008 | Brittney Basilio |
| 2009 | Sara June White |
| 2010 | Kristian Castellanos |
| 2011 | Kenika Lorenzo |
| 2012 | Allison Agustin |
| 2013 | Kayla Smith |
| 2014 | Ryanne Murakami-Samala |
| 2015 | Camille Agtina |
| 2016 | Megan Andrada |
| 2017 | Candace Basilio |
| 2018 | Kristina Domingo |
| 2019 | Anna Peters |
| 2020 | Isabelle Pescaia |
| 2021 | Kaile Ann Oleyar |
| 2022 | Rhea Mae Arellano |